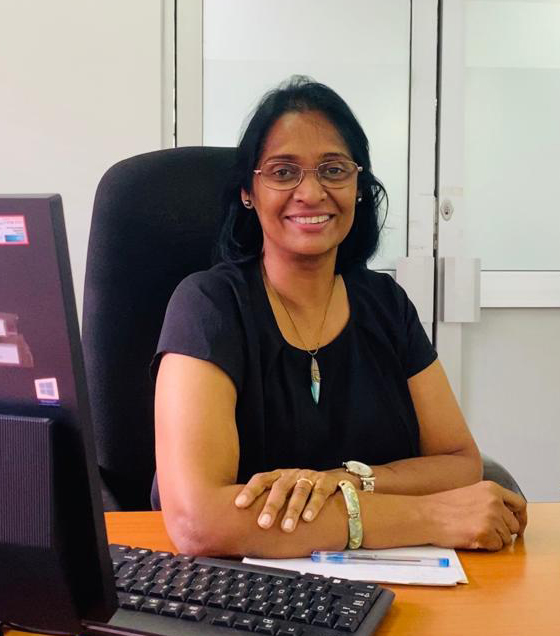 Professor Chandanie Wanigatunge was appointed Deputy Director PGIM on 1st November 2021.  She is the Chair Professor of Pharmacology of the Faculty of Medical Sciences, University of Sri Jayewardenepura.
Professor Wanigatunge graduated from the North Colombo Medical College, Ragama, Sri Lanka with Second Class Honours, and distinctions in Microbiology, Parasitology and Medicine.
She joined the Department of Pharmacology of the University of Sri Jayewardanepura in 1995 as lecturer in Pharmacology and obtained her MD from the University of Colombo in 2000. She was trained at the Newcastle Mater Hospital, Australia in Internal (General) Medicine and Clinical Pharmacology and was board certified as a specialist in General Medicine in 2002. She is a Fellow of the Ceylon College of Physicians, and the Royal Colleges of Physicians of London & Edinburgh. She was promoted to Professor (on Merit) in 2014 and appointed to the Cadre Chair of Pharmacology in 2016.
Professor Wanigatunge has held many positions in the PGIM. She has been a member of the Speciality Board in Clinical Pharmacology from its inception and of the Boards of Studies in Medicine and Multi Disciplinary Study Courses. She has been a resource person for multiple study programmes and an examiner for Selection Exam for MD Medicine and the MSc and MD Clinical Pharmacology and Therapeutics courses.
Professor Wanigatunge has held positions in the Sri Lanka Medical Association (SLMA), the Sri Lanka Association of Clinical Pharmacology and Therapeutics (SLACPT) and of the Ceylon College of Physicians (CCP). She was the President of the CCP in 2019.
Professor Wanigatunge has over 35 publications in peer-reviewed journals and many abstracts. She has supervised, and supervises, MPhil and PhD Students and has been the recipient of SUSRED Award of the National Science Foundation for postgraduate supervision. Her main research interests are in rational use of medicines, medicines in the elderly and research ethics and has received Presidential Awards for Scientific Publication in 2014 and 2015. She has been actively involved in research ethics related activities and currently is the Chairperson of the Ethics Review Committee of the SLMA and of the Forum for Ethics Review Committees in Sri Lanka (FERCSL). She is also an International Surveyor for the Forum for Ethics Review Committees in Asia and the Western Pacific (FERCAP).