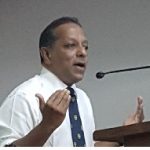 Research Support Centre (RSC)-Inaugural Lecture
The Postgraduate Institute of Medicine inaugurated its Research Support Centre (RSC) with an inaugural research meeting on the 26thof January 2017. Professor Janaka de Silva – Director,  PGIM – became the first resource person to deliver a lecture at the RSC monthly research meeting and the theme of the lecture was 'Medical research in Sri Lanka'. The meeting was well received and around 80 postgraduate trainees attended the inaugural lecture. From 26th of January, the RSC monthly meeting will become a regular fixture at the PGIM scheduled to be held on last Thursday of every month.
The main objective of setting up the RSC is to support trainees develop the generic skills related to research such as conducting a literature search, appropriate referencing, avoiding plagiarism, use of software packages for data analysis, applying for ethical approval and applying for research grants. At the same time, the RSC also aims at promoting trainees to public their research. Through such support, the RSC expects PGIM trainees to be competent researchers and produce high quality research for the benefit of the country.