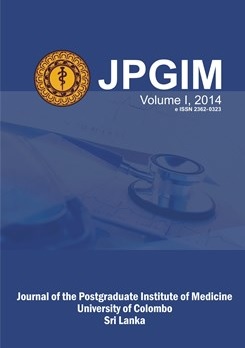 The Journal of the Postgraduate Institute of Medicine (JPGIM) is an editorially independent journal published by the Post Graduate Institute of Medicine, University of Colombo. It strictly abides by the criteria specified by the international committee of medical journal editors (ICMJE). Its primary aim is to provide a platform for publishing articles originating from all fields of medicine, in relation to clinical medicine and preventive medicine. The JPGIM encourages publications arising from postgraduate research in Sri Lanka.
The journal aims to publish articles relevant to clinicians, policymakers, and researchers across a range of settings that address the major biological, environmental, social, and political determinants of health. The editors make decisions on submissions based upon their potential to directly and substantially inform clinical practice or health policy, and their relevance to our national and international audience.
JPGIM considers articles on topics relating to medical education, professionalism, the integrity and ethics of the research enterprise and the practice of medicine. The JPGIM also seeks to publish articles in the area of translational medicine that provide substantial, novel mechanistic insights into disease processes, with potential implications for clinical care.
Each volume of the Journal will consist of articles published during a calendar year, and the journal will be hosted on Sri Lanka Journals Online (SLJOL) website.
Types of articles accepted
Reviews (Systematic reviews, Critical reviews)
Original articles/ Papers
Brief communications
Case reports
Letters